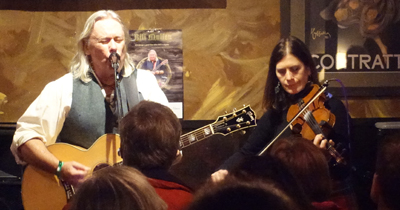 Lisa and I in full swing at the Galway Bay festival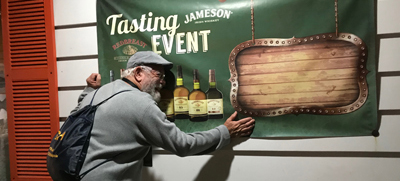 Bill Comerford finds his favorite poster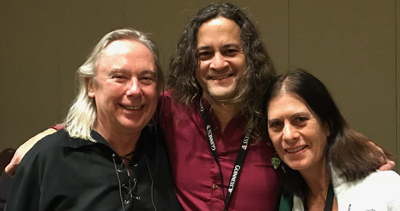 Lisa, Chris Carr (from the Kiltlifters) and I - happy times

T C O'Leary animated and entertaining... great pub, great night

Celtic Ray, Punta Gorda, FL - nice Bose sound system too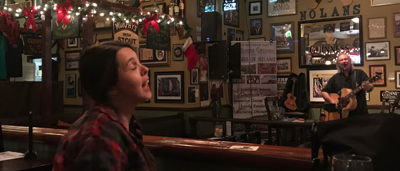 Gillian bursts into song... and clears the bar ... hahaha :)
Quick Update
A wee bit sad to leave Portland, OR on November 1st. We'd had a really great time there this summer with lots of friends, played a lot of happy gigs... and it was over for the year.
Happy to be on the road again and heading for our new house in Florida. The road trip was great - this is an amazing country and the weather was kind to us on the way down. Cold by night and nice by day. We took 15 days in total including a days stop for my birthday in New Mexico and an extra day in Memphis... because is was Memphis.
Hey - I'm skipping ahead - let's go back to the end of October the Celtic festival in Ocean Shores. It was amazing again- so many people. It was sold out. Around 30 bands/ acts, great atmosphere and it all runs like clockwork over the six days. I played 11 shows from Tuesday to Friday, each one well attended with people openly enjoying themselves. Just looking out at a sea of happy faces makes you do your best every time.
Lisa Gomes - is a great fiddle player from Hawaii and she played with me during the festival. We devised our "cunning plan" where Lisa would join on some songs and not on others. The result was pretty good and balanced. She is a joy to play with.
After the last show on Saturday, we said farewell to Lisa and drove the 3.5 hours back to Portland - when I say we - it was the sober one who drove... not me.
T C O'Learys, a lovely wee Irish pub on Alberta street. That was my last farewell to Portland for the season. There was a full house, plenty of my support / friends / lost souls showed up for one more blast and there was a nice local crowd there too. It's a great pub - you should go and check it out of you're in Portland.!
After a couple of weeks sorting out the house in Florida (6 miles from Dundee) we headed off to the Celtic Ray in Punta Gorda. It is a gem of a pub - a real Irish pub. Not one television in the place, a sign above the stage for the musicians "no Buffet, no Wagonwheel, no Eagles, no Lynard Skynard etc"... hahaha - it was clear - you know what your job is when you read that.
The night went well, the crowd were good, the owner is a great character - good jokes and flowing delicious pints of Guinness. The food was great and they re-booked me - I'd say that's a successful 1st appearance.
Thursday this week I played in Nolan's in Cocoa Beach - it was lovely to be back, walking into a pub on the opposite diagonal of the USA to be greeted with "Hello Bill, great to see you again, welcome back" and immediately I felt at home. The memories of past shows, people and events came flooding back again. It's a nice feeling.
I enjoyed playing and settled in fine, a nice crowd. someone requested an old Val Doonican song "Paddy McGinty's goat" which I haven't sung for around 40 years. For obvious reasons (if you know the song). It was from a woman in a crowd of folks celebrating her fathers 82nd Birthday. Well, her father's 82 year old face lit up when I said I'd give it a go. No-one was more amazed than me when I sang every verse and never missed a word... there are just some songs that stick with you... unfortunately.
I will be back in Nolan's December 28th, the Guinness night celebrating 200 years of Guinness in the US! Buy your pint and keep the special pint glasst... I'm aiming for a dozen now I have a place to put glasses:)
Remember - you can join me on facebook by "liking" my facebook page