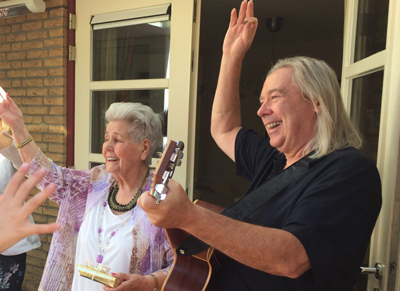 Tiny and I at her 90th birthday party - she had a great time

The Beach Boys - still going strong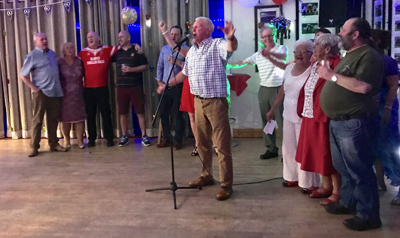 My Pal Anthony's 60th Birthday - here are the lads from Blarney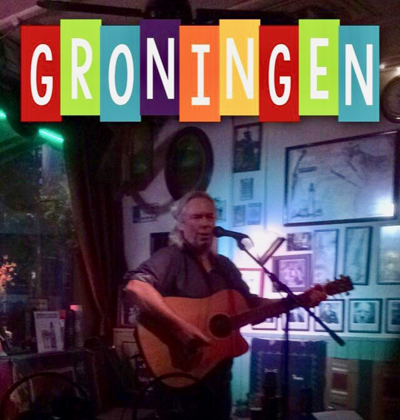 On stage in O'Ceallaighs, a wee jewel of a place in Groningen, NL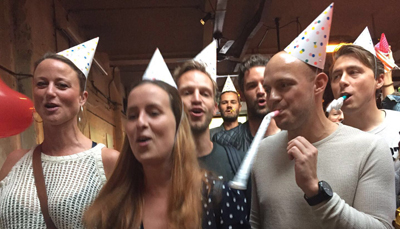 The rowdy mob I led in to a busy restaurant in Amsterdam...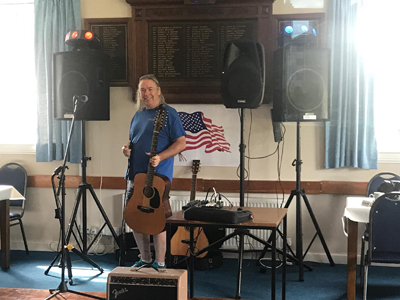 All set at Balgay for the evening show after setting up and sound check
A nice wee group enjoying an afternoon of misic at the Orchar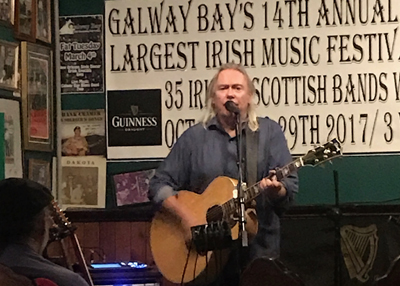 Back at the Galway Bay, Ocean Shores, WA - great to be back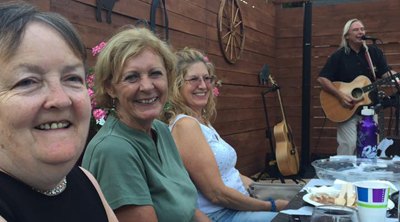 Happy friends at Tanya and Eric's party on Saturday
Quick Update
Last newsletter I was in Florida and we had just set up base in our new house 6 miles from Dundee... and 20 miles from Mickey Mouse. We stayed there one month then it was off to the Netherlands for a month.
My first gig was a surprise appearance at Tiny's 90th birthday party in Ugchelen (I was the surprise). Well, she was delighted and sang with me. She even played the guitar. Having played guitar, ukulele and sung in a band for years in her youth, she was re-living her past.
I was delighted to hear that the Beach Boys and Golden Earring were playing in a wee village north of us and our friends Monique and Eimert were treating us to the tickets! The Beach Boys are no longer boys... but the show was great... and Golden Earring are still great.
"Sausages for Tea" is on my album "Mullen It Over", Anthony Moynihan was the culprit behind the song - he played for Blarney United as a lad and went off to Wembley with them. This July he invited me to his 60th birthday party in Waterford. I enjoyed time in Dublin, met Molly Malone then drove to Waterford where I couldn't have had a warmer welcome. The party was a blast, I played an hour ... and Anthony got some good over 60s advice... ... it was very funny, a wee bit "naughty"... so the DJ, who was a real hoot, drowned it out with "always look on the bright side of life - what a laugh! The lads from Blarney were there in good form having had a few pints in Johnny's bar in Blarney before continuing the drinking on the bus on the way to Waterford and arriving early so they could get a few pints in before the party These guys are pros!
After Ireland I headed back to the Netherlands where I played at Monique and Eimert's birthday party along with Antoinette Hommerson - a great Country singer / performer. We had a great night - she is a real pleasure to work with... and a good friend too.
One weekend towards the end of our stay in NL, I had a show up in Groningen which is the most northerly place in NL, a bit like Winterfell. It is a city that still acts like a village, so it's a pretty good place to spend some time. I was playing in O'Ceallaigh's bar and despite the torrential rain we had a good nights fun there.
We stayed over in Groningen with our friends Sandra, Stefan, Ineke and Ronald which was a great way to end the trip. We then headed off to Amsterdam by train to be part of the "surprise" at Jennifer's 30th birthday party. I met up with about 30 of her friends outside a supermarket down the road from the restaurant Jennifer was in with her boyfriend and their families. We practiced our songs then we set off to the restaurant with me in the lead. As we entered, I started playing and everyone started singing and tooting their tooters... I walked and looked, and looked and walked ... where the devil were they??? We were on our 3rd repetition by the time I saw them right at the back of the restaurant, which, by the way, was absolutely full... of startled looking people. It was a relief to see her as I was beginning to think we were in the wrong place! That would have been embarrassing. It was worth all the effort to see the shock, delight, tears, joy and sheer emotion as it swept over Jennifer's face - that was a good one! I played and we all sang. At midnight we could all wish her an "official" happy 30th Birthday.
A few days later we left the Netherlands and headed for Dundee where my first show was in the "Balgay Bowling Club" I had been booked there by Bill Stewart who knows me from playing in Mahers, Lake Oswego, Oregon. We met a few years ago when he was over visiting his daughter, Lesley (who is also a friend) ... and they are from Dundee (small world). Bill and the other committee members came along to one of my performances in the Clep bar where I was playing with my pal Pat Ferrie ... and they booked me there and then for my next trip to Dundee, which was about 9 months away at that time. It was a grand night, happy people, a great crowd, cheap drink and I met a good few people who knew me / knew of me from school days. It was also a trip down memory lane as all the old names and stories (good and bad!) were revisited!
My mum's old nursing home in Dundee is closed. That is so sad, I loved that place with its happy atmosphere, its caring staff and the welcoming residents whenever I played there. Sandra, the ex-receptionist, is also the entertainments person for the Orchar nursing home in Broughty Ferry, so we arranged an afternoon when I could play. The people there light up when they hear music... they loved it all, especially my song for Dorothy "One in a Million" An afternoon well spent.
I mentioned last time that my son-in-law, Shady, had organised a whisky tour to the Isle of Islay. Wow... that was a cracker - 9 distilleries in 5 days including traveling there and back. Islay whisky is the peaty / smoky stuff... I'll be happy to tell you the full story over a nice glass of something strong and smokey.
We also had a hilarious family holiday in Crete, Greece with Dorothy's family (all 18 of us). We celebrated Dorothy's 60th birthday and several other events there. We even really enjoyed each others company! It was strange to be back there as we had been on vacation there when the kids were young. This was a nice break, sun, sand, pool, relaxation, lots of food and a wee bit too much drink!
After we returned from Greece to Scotland, we spent a few days in Dundee then off again to the Netherlands and straight to a surprise party for Dorothy for her 60th Birthday - this was certainly the summer for surprise parties. It was so nice to see all our old friends again - and Dorothy, after she got over the shock, was delighted and very happy.
On Wednesday August 9th, we landed in Portland, Oregon, one and a half hours after we left Amsterdam... I love this time travel! Two days later I was on the stage at the Galway Bay pub in Ocean shores for the Friday and Saturday shows. I was very happy to see so many of the people who had attended my shows at last year's festival attend both my evenings there. I also met up with Fae and Ron from the band SeaStar who were recording an album in Ocean Shores that weekend. They played a set for us on the Friday - that was wonderful. We listened to their CD all the way home on Sunday - that is a great band - I recommend you seek them out.
The next weekend, I played a private party at the house of Tanya and Eric. They had set out their garden really well, they even supplied "bangers and mash" ... hooray! It was the inspiration needed to get me to sing "sausages for tea" around the firepit accompanied by a lovely Laphroaig smokey whisky! It's nice to be back again.
Remember - you can join me on facebook by "liking" my facebook page