I'm looking forward to playing in Groningen, in the Netherlands. It is a University city, steeped in history and has a great cultural vibe (great food, drink AND old stuff - phew!). It'll be great - and we can visit Stefan and Sandra who were at school with our daughter, Valerie - woo-hoo!
When I'm in Scotland during the summer, I will play a special event on July 8th at the Balgay Bowling Club on the Perth Road, Dundee. Details will follow soon - and it will be a grand night - a good one for Dundonians to put in your diary
My big "Return to Portland, OR party" is at the Feckin Brewery on August 25th - this will be a Fecking great one for Pacific Northwesters to put in your calendars, we are planning a great Feckin evening with the Feckers.
At the end of the summer I will finish off at the fantastic Galway Bay Celtic festival in Washington Oct 24 to 28th - the lineup for that is all but confirmed - and brilliant. Remember to get tickets early, or ye'll be fecked.
I'm trying to get ahead of the game for my return to Florida, I am delighted that I have a large number of shows in Nolans Irish pub at Cocoa Beach lined up (see below for dates). I'm also playing a show at a new place, for me, the Celtic Ray in Punta Gorda on December 1st, I've heard that it's a great venue.
Talking of good shows - next year I've been booked for two live radio shows at the Common Ground Meeting Hall in North Port, FL with KDW Radio. We've put the two shows into a wee duo called "Coming and Going." The first one on January 4th 2018 will be a celebration of the coming of the New Year and the going of the old one, themed around my experience of New Year parties as a boy in Dundee (enjoying myself (and sneaking some beer) at the Gibsons). The second one will be March 1st as the lead-up to St Patricks day / week.. I will theme that around St Patrick's day including the differences in the way it was celebrated, in my experience, in Scotland, Ireland and the USA.
I played one show at the Common Grounds in February this year - as it is a live radio show, you can listen again (not so alive now - it's well preserved though!), click the pic below to hear it :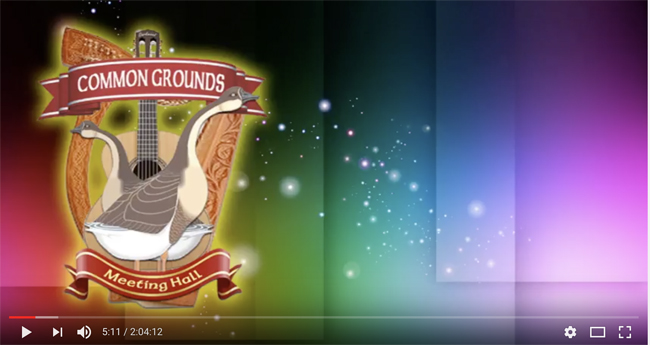 Take Care and hope to see you at a show somewhere
Bill
And finally... here's my list of next gigs...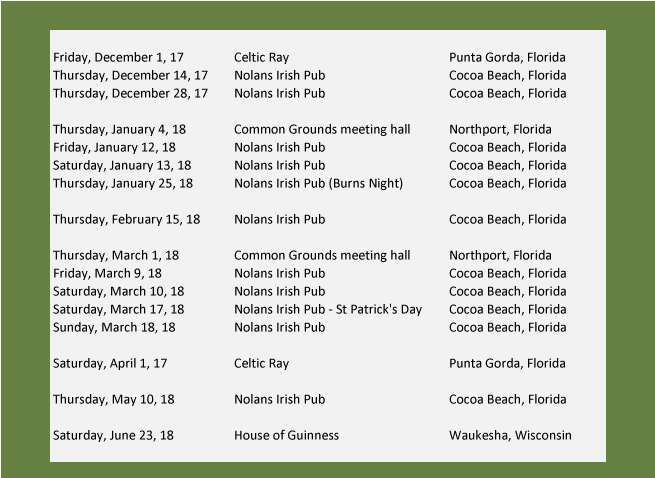 You still here?
Still reading?
Ok... since you're so persistent
Want to know what else I'm doing this summer ?
It's really good !
Will be great!!
Feast your eyes .... bwa-ha-ha-haaaaa !