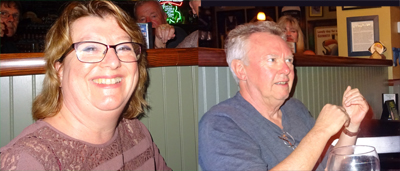 Doug and Marjolein enjoying the show in Nolans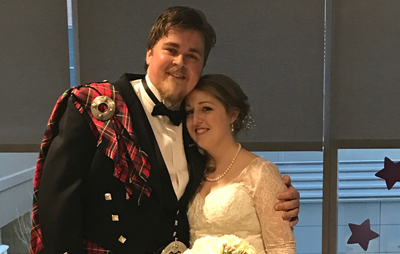 Kyle & Lauren - Married!!

... and of course there was music

RJ Malloy and I at the Common Ground / KDW Radio
Quick Update
January and February are gone and I'm on the road again heading west, right now I'm in Sonora, Texas... sort of half way between Florida and San Diego, California. The weather is very nice and hay fever season has started - hooray for antihistamines!
In the last newsletter, I was in the middle of my Florida gigs and these continued to go well. My brother, Doug and his wife Marjolein arrived in Florida for my last shows in Nolans at Cocoa Beach, then we packed our winter woolies and headed up to Wisconsin (by plane) for my son, Kyle's, wedding.
Wisconsin was very cold after Florida but not as hard to get around as I imagined it might have been. It was great to meet so many of Lauren (my new daughter-in-law)'s family and friends, see our friends and meet Kyle and Laurens friends from the Netherlands, USA and Japan. I am delighted that they have such good people in their lives. We shared unforgettable experiences together and before we knew it, we were back in Florida again. Our son is now married to a really wonderful girl.
Next, we had a tour of Florida with Doug and Marjolein which also included a show in North Port. I was booked to play at the Common Ground meeting hall which is also the KDW Radio station. We arrived there early evening and met R.J Malloy, the station manager who was dripping with a cold and looking like a misery that you see advertising cold medicine on TV. I got set up, sound checked and chatted to RJ for a bit. It turned out he is friends with Billy Connolly - who has been my hero for as long as I can remember. The stories were flowing and soon it was time for us to shut up and me to play.
There was a small crowd, Bud Buckley (the host for the evening) introduced me and the show started. I was amazed at how many of my friends / fans / followers were listening in on-line and texting, messaging, facebooking to us live. Dorothy was calling out some messages she had received and my phone (which rarely makes a sound) wouldn't stop making noises. It turned out there were 836 people listening live. - some I'd never heard before
I had messages from all over, Linda Ross and David Reid - our hosts in Hawaii in March were also listening in, my phone was going crazy! Bud hopped on to the stage a few times for radio announcements and to chat a wee bit with me live... he was great - a fine lad with a big radio voice. Live radio is a new experience - and one I enjoyed immensely.
Remember - you can join me on facebook by "liking" my facebook page