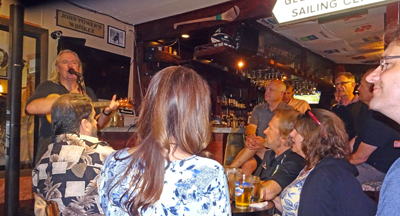 Playing Ukelele in Mahers for Alan and Roxanne's anniversary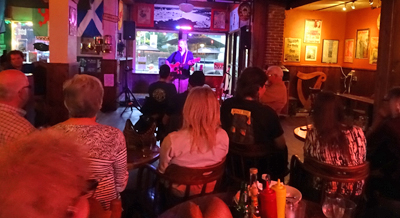 A great audience in O'Neil's, Portland Celtic Sunday concert.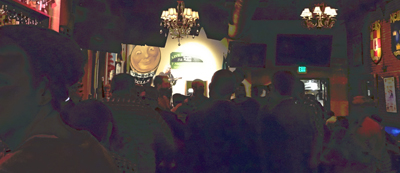 A jam-packed Kells, Portland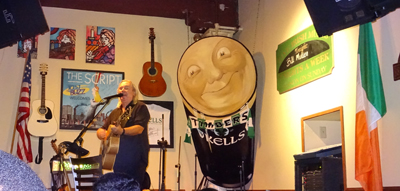 Belting it out on stage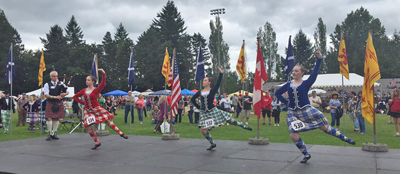 The Highlands arrive in Portland for a day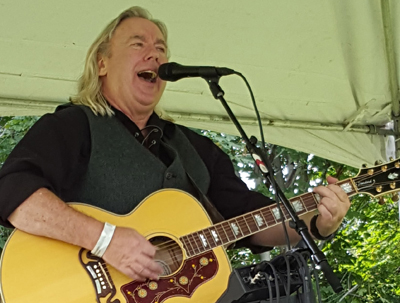 The gentle lullaby?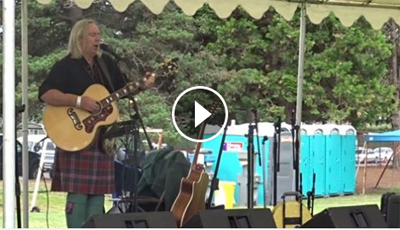 A wee clip of my bit of the Highland games

The Bethany pub, Portland - a fine night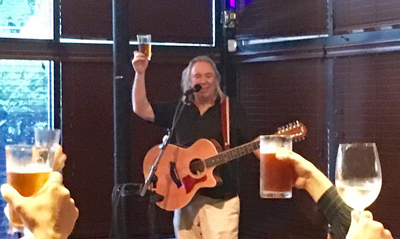 Cheers!
Quick Update
My Last update was July 4th, I wrote it up in Ocean Shores, WA right beside the Pacific Ocean. Since then I have been recording my new album at Nettleingham Studios, Vancouver, WA during the week and playing at weekends
The return to Mahers July 8th was great - it would have been better if the rain had stayed away so I could have played on the outside patio. Playing inside was fine, a bit cramped as it was totally crowded by my all-weather faithfuls :) It was great to see everyone again.They have installed a great airco system for the performers - that was a huge improvement for sweaty me.
On Sunday, July 10th, I played an evening concert in O'Neils Irish pub, Portland, OR. We had a great turnout - thanks to those of you who came for the show. A special thanks to my good pal Fred who had just arrived from the Netherlands that day. I had a chance to play some of my new songs, I enjoyed giving them their debut (if a wee bit nervous and emotional) and was very happy with the reception they received...
The following Friday I played Kells Irish pub downtown Portland, OR 9pm to 1am - it was a full house and lots of fun. Kells usually has a band on at weekends - I took it as a big complement that Gerard (the owner) trusted me to handle the biggest night of the week as a solo act - it was a great night, totally exhausting.
The only problem I had with the Kells gig was that I was playing the Portland Highland Games the next day and I was up first on the big stage. So I was drinking lots of water and throat coat tea to be sure I'd be ok the next day. We got to bed at 2:30am. After a very short sleep it was up again to get set and ready for the Highland games.
Lashings of water, honey and throat coat tea did the trick. I made it to the games bright and early at 8am - which was just as well as I had a lot of gear with me as the 2nd stage I was playing on had no sound system... I knew I couldn't manage without one. It was a different story getting it all back to my truck - Dorothy, the roadie extraordinaire was exhausted!
The Highland games was brilliant, the weather was almost Scottish, I say almost as it didn't rain - the clouds were brooding, the temperature was moderate and there was a nice breeze. I wasn't there last year as I was still travelling but I heard that the temperature was over 100 degrees F... that is scorching weather!
My 1st set at 9am was the least busy as expected but it was really good to bring my voice on-stream again, I got going with "Scots Wha Hae", the official Scottish National Anthem, by the end of a few more I dared to sing songs with lots of high notes again (a tentative process as you move from "Lee Marvin's wandering star" level back to normal) - the body's recovery is just wonderful.
The 2nd and 3rd sets were on the same field as the whisky tasting, lots of merchandise stalls and a food stall selling the hugest barbecued turkey legs you've ever seem - it was hilarious playing songs to a lot of Fred and Wilma Flitstones guzzling away at these huge chunks of meat.
I also did a stint as the wandering minstrel in the tea tent, the VIP tent and around the racetrack. It's funny when you're the creepy guy sidling up to tables and bursting into song when the people aren't sure if they should make eye contact... maybe I'm just a weirdo... maybe I'll ask for money... hahaha - it was a laugh. My playing attracted crowds and spurred on the runners in the kilted mile (well done my pal Alan - the fastest kilted 60 year old!)
Playing went well, the crowds gathered up no problem and I had most of them singing and joining in early on. These events are way more demanding than normal gigs, most people are sober (no offense to my normal followers - but we do like our drinkies), everyone is watching, listening and paying close attention to your every move / note / song. Fortunately, I've done enough of them not to get nervous and just keep calm and carry on (as a famous T-shirt once said).
When my last set was finishing around 3pm, I realised that the band I thought was on after me wasn't coming on, it meant I had plenty time, no hassle and I decided to keep going another half hour until the last band started in the upper field. I had a full crowd in front of me , so why not keep them entertained. I got a great ovation at the end and was pretty happy with the day's work.
A few notable points for me were that there was a wee girl about 10 years old who had heard me 2 years ago, bought my CD, played it daily and knew all the songs off by heart - her mum told me. Another woman who had been at all my shows thanked me for always playing more than my time - something Dorothy's not usually too happy about. The fact that there were people there who knew me from previous times and had loved my CD... and the many more who bought CDs - we sold a bundle that day - made it Great!!
The last gig before my operation was at the Bethany Pub in Portland - Michelle and the pub had done a grand job of promoting a Celtic night - and it was great, really enjoyed it - even the bit where I sang an English song with an Englishman - you were great Mat!
Remember - you can join me on facebook by "liking" my facebook page